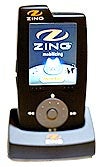 It's a music player; it's a social networking device; it's a tasty treat. It's Zing! Because all good products should onomatopoetic. A prototype of the innovative music player was making the rounds at the D4 conference today, and Wall Street Journal blogger Jason Anders covered the tech demo.
Broadly, Zing leans heavily on wireless connections to let users access music stored on a networked computer, or an Internet-based subscription service like Yahoo! Music, or even on a friend's device that is within range — all through a seamless interface. Listening to a song on an Internet radio station and want to buy the CD? The iPod-sized Zing will (in theory) be able to sync up with an online music store to complete the purchase.
Honestly, if there's a place Apple is beatable, it's in devices that innovate, that add new features—FM radios and microphones won't be what kills the iPod. Zing could be that feature…or, seeing as how Zing is looking to license their technology rather than sell their own devices, Zing could be the innovation that solidifies the iPod's position as the market leader. Listening, Steve?
[Thanks, Jason!]