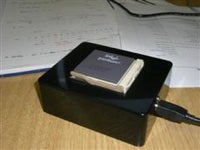 Keeping the old mug of tea warm while in a high intensity blogging session is a challenge. Sure, you could buy one of them USB cup warmers, but got an old Pentium chip lying around? You can roll your own mug warmer with that sucker. Just attach the Pentium chip to a USB2 connection, throw in a couple of resistors, some thermal paste, and whammo—instant beverage hotplate.
There aren't really detailed instructions to putting this together, but if you know something about electronics, you could probably muddle through it using the info on the forum post above. Since my last exposure to soldering was, oh, eighth grade, I think I'd probably better avoid the temptation, lest I burn down the Gadgetbox HQ.
[via Everything USB ]
Note: When you purchase something after clicking links in our articles, we may earn a small commission. Read our affiliate link policy for more details.