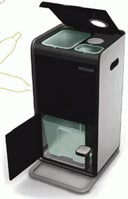 We're lucky here in the Metro Boston area: recycling is not only pretty widespread, but it's also fairly thorough. Of possibly recyclable materials, the city of my residence accepts most, if not all. Still, there are plenty of places left in the world—even in the US—where recycling hasn't achieved this level of saturation. And the first step is making it easier.
That's what the Ecopod E1 is designed for. It's a household recycling center that simplifies the disposal and recycling of plastic bottles and aluminum cans. Pop your container in the top and stomp on the foot pedal to hear the delicious sounds of crushing . Think of it as a miniature version of the Death Star's trash compactor. There's also an upper compartment for storing newspapers, glass bottles, and other non-crushable materials.
The compacted recyclables fall into a bin at the bottom which you can put out on your curb or return to your local recycling center/bottle redemption source. Me, I'm a sucker for anything with foot pedals.
[via GizmoWatch ]