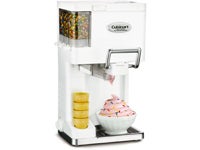 We had a hand-cranked ice cream maker when I was a kid, but it took so long to use that by the end of it, you really didn't want ice cream any more. In fact, all you wanted to was to plunge your hand into ice water and go to bed. Also, just to make it that much worse, the ice cream it made wasn't any better than the ice cream you could get in the store, it made you wonder why you had just spent the better part of an afternoon cranking a stupid plastic container.
Good times.
But the Cuisinart Soft Serve Ice Cream Maker is a different story entirely . I'll admit, I once had an unfortunate run-in with a self-serve ice cream machine in Washington D.C. that resulted in the largest soft-serve ice cream imaginable , but I'm sure our nation's capital has forgotten all about that. Anyways, this sucker not only makes a quart and a half of glorious soft serve in less than 20 minutes, but it has a compartment that lets you add all sorts of mix-ins, from cookie crumbles to sprinkles to anchovies—whatever your little heart desires!
Oh, I suppose you could share it with the kids too. But where's the fun in that? Just send them out back with the hand-cranked version while you enjoy the smooth deliciousness of some ice cream. Go ahead, spoil your dinner .
[Thanks, Peter]