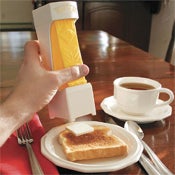 It's come to my attention that people are a little down on the One Click Butter Cutter. No need to be haters, people. Yes, you could just cut your own pat of butter without using a $20 plastic device, but then you miss the point: butter snacks . Hungry? Just pop a pat of butter in your mouth. Mmm mmm.
Each pat is just 1/5th of a tablespoon too; the ideal serving size for butter, when you thick about it. The real advantage, if you ask me, is avoiding toast crumbs in the butter dish—don't pretend you don't know what I'm talking about. You can just use your knife to cut your food, so you don't contaminate your delicious dairy fat with foreign particles. And it means one less knife to clean.
What's not to love?
[via Shiny Shiny ]
Note: When you purchase something after clicking links in our articles, we may earn a small commission. Read our affiliate link policy for more details.