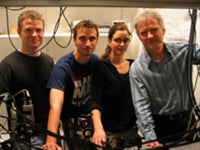 Think I can make it through an entire post on teleportation without a Star Trek reference? Starting now . A group of scientist at the Niels Bohr Institute of Copenhagen University in Denmark have managed to teleport objects between light and matter. As opposed to previous experiments which involved teleporting between two separate atoms at a distance of millimeters, the Danish team have teleported an object composed of thousands of billions of atoms (please let it have been a raspberry danish—the irony would be delicious ).
"It is one step further because for the first time it involves teleportation between light and matter, two different objects. One is the carrier of information and the other one is the storage medium," [lead scientist Professor Eugene] Polzik explained in an interview on Wednesday.

[…]

"Our method allows teleportation to be taken over longer distances because it involves light as the carrier of entanglement," he added.

Quantum entanglement involves entwining two or more particles without physical contact.
Sounds good. Also, "Quantum Entaglement" would be a great name for a band; they even look like they're a band, yeah? Still, sounds like it'll be a while before we have teleportation like St—er,
Nightcrawler
. Right.
[via Slashdot ]