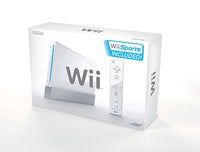 Lest you think the only fun to be had this week is of the Apple variety, Nintendo has stepped up with a special event of its own, and they've dropped the two most important pieces of information yet to be released about their forthcoming Wii system: price and date.
November 19th. $249.99.
There you have it. Months of speculation are at an end, and we know the day and date when we can pick up some sweet Wii-y goodness. But which bundle should you choose? We know the Xbox 360 has shipped with Core and Premium models, and the forthcoming PS3 has $500 and $600 models; what of the Wii?
Reggie Fils-Aime, President of Nintendo of America offered this sentiment: "One price, one configuration, one color." Oh Reggie, you are truly the Steve Jobs of gaming. The package includes console, cables, sensor bar, one Wii remote and one nunchuck controller, with extra controllers running $39.99 and nunchucks running $19.99. Wii Sports will be included as a game with the Wii, and other new titles will retail for $49.99.
Reggie also dished wii-tails on the Virtual Console, which has been renamed "Wii Channels." You'll be able to snag NES games for 500 Wii Points (or $5), SNES games for 800 ($8?) and N64 games for 1,000 ($10?). You can buy a 2,000 Wii Point card for $20, and a classic controller will be available.
The Wii is just under two months away. You getting one? Let us know. That way we can, um, come over and play.