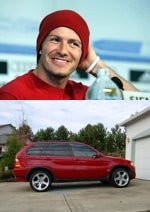 We've all seen the utterly ridiculous scenes in modern action movies where people hack into everything from air conditioning systems to toaster ovens using a laptop. In reality, few places are modernized with that level of automation; you'd have better luck using a low-tech lockpick to sneak into most buildings than a high-tech laptop.
Unless you want to steal international soccer star David Beckham's BMW. Twice. Apparently, the automation systems on the BMW X5 are so sophisticated that they practically steal themselves. All it takes are a the schematics for the car's model (no doubt freely available somewhere on the vast Internets), and the internal computer will give you the encryption keys, start the engines, unlock the car and stop the stereo from pumping the Spice Girls (if that's not a theft deterrent, I don't know what is).
Man, KITT would never have fallen for something like that.
[via Engadget ]