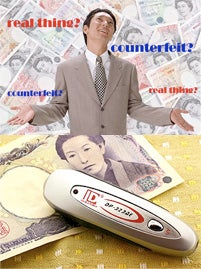 The only thing I seem to recall when it comes to detecting counterfeit money is that it burns red. Maybe that was just in Rush Hour 2 , though. I wouldn't advise you to go around setting all your bills on fire, looking for forgeries.
Fortunately, this little device (Japanese link) will supposedly help you determine whether your cashola is the real McCoy, or a cleverly constructed fake. It uses a combination of ultraviolet light and a magnetic reader to check the safeguards built into many types of currency around the world. From what I can decipher from the Japanese, it'll even give you a little beep when your money's on the up-and-up. Thank god: that guy up there seems to seriously be in need of some help.
It'll run you about $13 of real money . I wouldn't advise trying to pawn off Monopoly bills to buy this thing, although you'd get points for irony.
[via Coolest Gadgets ]