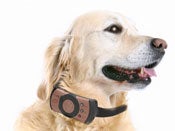 What will happen when every man, woman, and child in the US has a cellphone? Simple: Rover and Fluffy will get one too. The PetsCell is a collar-mounted waterproof cellphone for your dog that you can call whenever you like and tell Fido to sit, roll over, or start dinner. Don't worry about the controls either; it'll answer automatically when you call, and it will only answer recognized numbers, so no need to worry about Rex getting telemarketer calls during dinner.
In addition, the unit contains a GPS unit, so you'll never have occasion to post "Lost Dog" notices around the neighborhood. You can even define a "fenced" area and the PetsCell will notify you when your dog leaves that area. The PetsCell also has three "Call Owner" buttons that can be used to contact you in an emergency. Pricing and plans are not listed on the website, but the unit won't be available until late 2006.
Now, I'm not a dog owner, so to me this idea seems patently ridiculous. However, I could see why people would like the ability to keep track their dogs—it's certainly less disturbing than people tracking their children via GPS. And I love the idea that you could get a call telling you that Duke is running wild in the streets again.
[via Ubergizmo ]