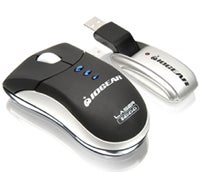 With the amount of gross stuff your average pointing device accrues, you might be tempted to think that they hail from Germ any. Get it? It's a play on—never mind. Anyway, IO Gear wants to buck the trend of nasty mice by introducing its bacteria-, germ-, and virus-free rodent.
Look, I know I'm a little paranoid about germs and the like, but even I'm not this paranoid. For one thing, I'm really the only one regularly using my mouse (as far as I know…perhaps the cat has been sneaking in while I'm out and logging on to internet dating sites). For another, doesn't it seem like the cure is potentially worth than the disease? IO Gear says that you should "not ingest the surface material of the device under any circumstances." What if I like to gnaw on my nano-particle coated mouse between meals?
Better still is this quote, from the same disclaimer: "This device does not eliminate the entire universe of bacteria or viruses." Holy crap, wouldn't that be the best mouse ever ? When you make that one, IO Gear, let me know.
[via SCI FI Tech ]