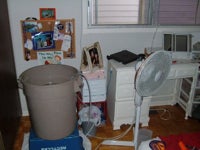 Yes, the northeast gets cold. No doubt about it. But the stinky, smelly secret of New England is that in the summer it gets bloody hot . Case in point: it's June 18th, and the temperature in Boston has hit 90°F.
Now, air conditioners have gotten cheaper in the past few years. But where's the fun in dashing out to Target and picking up a bargain model? You're not a geek unless you make one yourself . And, even better, you do it for around $30.
All you need is a garbage can, a large fan, some zipties, a couple hose clamps, and some vinyl and copper tubing. Oh, and lots of cold water and ice. Voila, homemade air conditioner. It ain't pretty, but it works.
Now, if you don't mind, I'm off to Home Depot.
[via Lifehacker ]