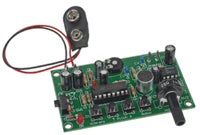 When I was a kid, I came across a Voice-Changing telephone in a Hammacher-Schlemmer catalog. I would while away the hours, dreaming of the fun I could have with such a device: I could call my school, pretending to be my dad, and tell them that I was sick. Or I'd call my friends, pretending to be some girl they liked, and tell them how much I liked them. I was an evil little bastard.
But sadly, it was not to be—I never got my hands on one. Now that I'm older, I know that those sort of uses would be just plain wrong . Still, finding out that I could buy myself a DIY voice changer kit for just $12.95, well, it has me rubbing my chin thoughtfully. You'll need to provide your own enclosure and a 9V battery, but I'm pretty sure I could scrounge those up. It might not be suitable for Mission: Impossible usage, but I'm sure it'll still be plenty good for prank calling my friends and pretending to be girls that they like. Oh, some things never change.
[via CrunchGear ]
Note: When you purchase something after clicking links in our articles, we may earn a small commission. Read our affiliate link policy for more details.