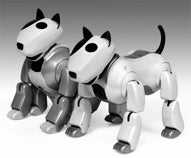 Nothing says the future like robotic pets. Well, maybe jet packs. And flying cars. Okay, lots of things say the future, but how many of them are here now ?
Robotic pets are great. No shedding, no allergies, and best of all, no housebreaking . Plus, there's nothing like cuddling up next to your robo dog next to a roaring fire—just don't get too close.
But there's been something of a void since Sony announced the end of their iconic AIBO line, a void which is now being filled by Korean vendor DasaTech's new totally-different-from-AIBO-we-swear Genibo. Genibo is a real live robotic dog who will run, jump, play dead and fetch your slippers, all the while planning and scheming for the inevitable robopocalypse, when they will fetch your doom .
Genibo will be available sometime next year.
[via Gearlog ]