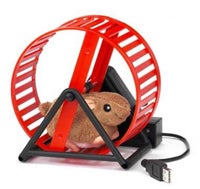 The life of a blogger can be a lonely one at times. My roommate's cat just came and sat on my lap for a while, but he makes it a little difficult to actually write anything. Plus, like most cats, he eventually got bored and left.
This USB Hamster on a wheel will never leave you though—only death can part you (your death; it's not a real hamster). Plug his USB tail in and then, when you start to type, the hamster will start to run around the wheel. The faster you type, the faster the little bugger runs.
Seems unfortunate to me that the computer powers the hamster wheel rather than the other way around though. On the other hand, this could form an integral part of a very complicated Rube Goldbergian device. It's £25, but it says it's only compatible with Windows 2000/XP, which gives me the only opportunity I'll probably ever have to complain that my hamster is not Mac-compatible.
[via Gadget Candy ]