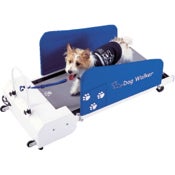 What's the deal with pets getting gadgets that even I don't have? Now there's the doggy treadmill to keep your pet well-exercised. Remind me, because I don't have a dog: aren't you supposed to take them for walks? Isn't that how the whole deal works? But, oh no, a treadmill and a dog toilet and you think you can change the natural order of things , huh?
The doggy treadmill is, if you ask me, an abomination on the level of dressing up your pet in little sweaters and hats. Not to mention, how cruel does it seem to leash your dog to this thing? What if the dog gets tired and you're not around? More like a doggy torture device if you ask me.
The detail page is in Japan, but if I decipher this correctly, it costs about $258. Or, you know, you could take your dog outside and avoid all the torture.
[via Popgadget ]