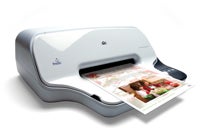 Everybody knows someone who just refuses to take the jump into the 21st century and embrace computers, the Intertube, or anything of more technological complexity than a microwave. How does one reach those people? No, seriously—how the heck do you get in touch with them? It's not as if we can just write them a message on a piece of paper and somehow deliver it to them. We need to get these people on email, stat .
That's the idea behind Presto. It's a service that provides an email address which, when combined with a special HP printer, allows them to receive email and photos in hard copy. The printer includes an internal modem that plugs into a phone line and automatically downloads and prints emails and photos. Great for my grandmother, who'd love to see pictures of her great-grandchildren that are miles away.
My first thought was: what about spam? I hardly want my grandmother deluged with printed out copies of ads for Viagra and worse. Presto is configured to only accept email from known recipients (which suggests that someone with a little technical savvy will be instrumental in setting it up). Of course the ink cartridge and paper will have to refilled every once in a while, but someone in the family ought to be able to help out with that. The printer costs $150 and the mail service is $10/month or $100/year, which isn't too bad for the priceless value of the funny pictures of cats in sinks you're bound to receive.
[via Popgadget ]