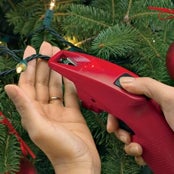 I honestly have no idea if this light string repair tool actually works. According to the catalog text it can fix your broken strands of Christmas lights using some sort of heathen voodoo:
It sends an electrical pulse through the string and repairs problems associated with defective shunts, often the cause when an entire section of lights goes out…Also includes voltage detector with sound, bulb/fuse tester and bulb remover.
If you're ticked off enough that you buy Christmas lights every year and they seem to be dead by the following year, perhaps this would be a nice stocking stuffer for you. It has an LED for working in dark areas—say areas that are
unlit
because you don't have any fricking lights that work.
The price of happy holidays? Just $24.95 plus shipping.
[via Oh Gizmo! ]