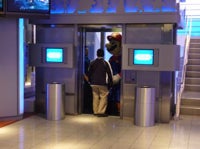 The wait is finally over. If you've been lusting after a new Nintendo DS Lite, today's the big day: retailers across the country should have their stock out and ready to purchase. We cover the DS pretty extensively on Gadgetbox. Why, you may ask? Why not! we blithely reply. For one thing, it's the only game system I own. For another, it's arguably the most innovative console on the market today. And finally, well, it's cool , people. Stay with me here.
Engadget got to go to the DS Lite launch party at the Nintendo World Store at midnight last night/this morning, the lucky fellows, and they have a number of pictures up from the event. The first one hundred buyers got a copy of Brain Age for DS and a carry case, and some had been in line for up to thirteen hours (and yet nary a Steve Jobs in sight!). The store also had an extensive collection of old school Nintendo systems and memorabilia, including an original Game Boy that had been damaged in the first Gulf War but still functions. That, my friends, is what they mean when they say they don't make 'em like they used to.
In other DS Lite news, I'm wondering how Derik's plan to conceal himself, ninja-style, inside his local Target is working out. Hopefully he managed to snag one before he got nabbed by the cops.