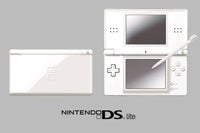 Before the madness of Wii, the Nintendo DS was arguably the most revolutionary console that Nintendo had launched. With two screens (one of them touch-sensitive), a microphone, and Wi-Fi built-in, the DS had a number of features not found on full-size gaming systems, much less portables at the time of its launch. There was just one problem.
It was uglier than Kevin Federline after he'd been hit by the ugly stick.
And thus, the DS Lite was born. Taking a clear page of styling from Apple's well-guarded crystal white playbook, Nintendo redesigned the DS into a slim package while not only retaining all the features that made the original DS such a success, but even enhancing a few, such as screen brightness.
The result? I love my DS, but the aesthetic geek inside me wishes I had held off on buying it for six months. Nintendo has announced that the DS Lite will launch in North America on June 11, for $129.99 (the same price the original DS fetched at the time of its release).
So…anybody looking to buy an original DS? Help a brother out.