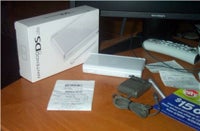 Word tore across the net like wildfire this morning that some Target and Wal-Mart stores had broken the street date on the Nintendo DS Lite, which was not supposed to be released until June 11th. A moderator at the Cheap Ass Gamer site found a cache of the Lites at his local Target, and a number of other readers have reported the appearance of the shiny white handheld at Targets and Wal-Marts around the land.
So Gadgetboxers, if you're looking to score one of the svelte new Lites, better check out your Wal-Marts and Targets before they run out. I'm tempted to speed over and get one myself, though I'm holding back to prevent jealousy on the part of my original Nintendo DS.
[via Kotaku ]
Note: When you purchase something after clicking links in our articles, we may earn a small commission. Read our affiliate link policy for more details.