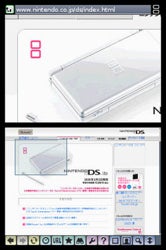 As you might know, we are fans of all things Nintendo DS-related here at Gadgetbox. It's been previously reported that the company's upcoming Wii console will use Opera, and that a version for the DS is appearing in Japan sometime next month. But how will the unique form factor and features of the DS lend themselves to web browsing?
Well, now we have some screenshots of the browser's interface, which appears to operate in a variety of modes. One uses the touch sensitive screen as a sort of overview of the whole page, while the top screen zooms in on a portion that you select by moving the stylus on the lower screen. Another spans the page over the two screens, though it looks as though that may be only for pages formatted specifically for smaller screens. It also seems that it'll support some form of handwriting recognition, as well as an onscreen keyboard.
Finally, I can turn my DS into a Newton! Well, close. But I'm intrigued by the DS browser, and think it's quite promising. There are plenty of times I don't want to worry about dragging about my laptop and waking it up just to check my mail, or go to a website. I'm curious to see if the DS, with its small form factor and quick startup, can handle this instead. Now we only need to wait and hope that the browser is released in the US.
[via Kotaku ]