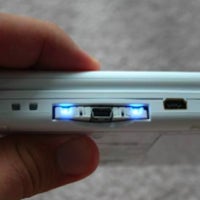 Want to enhance your Nintendo DS experience? Don't worry, it's perfectly legal. And safe. Sure. For just $125, you'll soon be able to pick up the DS-Xtreme Media Enhancer. This little device is a DS cartridge that also includes a mini USB port and some swanky blue glowing lights, as you can see.
Just plug the cart into your computer with a USB cable; it'll be recognized as a flash drive. You can then load this sucker up with MP3s or backups your Nintendo DS games in .NDS format and slide it into the DS's slot. It even comes with its own menu system and audio player, so you can enjoy some sweet sweet tunes without having to lug around a music player in addition to your DS. Reputedly the DS-Xtreme supports other homebrew applications as well, but the review I read hadn't had a chance to test them out yet.
The DS-Xtreme has 4GB 4Gb (or 512MB) of space for storage, and it sells for $125.
[via Gizmodo ]
Update: Yup, that's annoying. The DS-Xtreme is actually 4 Giga bits , not 4 Giga bytes . So it's actually 512MB. Why not just say that? Thanks, rCRUZ.