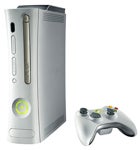 This week marks the annual Electronic Entertainment Expo, known to the cognoscenti as E3, so you can expect to see a veritable plethora of game-related news. We'll try to keep it under control for you. The conference officially starts tomorrow, and all eyes will be on Sony and Nintendo, who will both be demonstrating their next-generation consoles: the PlayStation 3 and the Wii, respectively.
You might think gaming's third big player, Microsoft, would feel a little left out, having already released the Xbox 360 last year, but they're not about to let that stop them. They've started the week off with a bang, announcing the planned HD-DVD support for the 360. For those confused by the whole jargon, Microsoft breaks it down:
To most consumers, HD DVD is probably a new phrase, but it's simple to decipher. The HD is high definition and DVDs are those hundreds of millions of shiny discs sold worldwide.
Thanks, Microsoft. That was breaking it
way the heck down
. If you're an Xbox 360 owner, no doubt you're wondering what this revolution (sorry, Nintendo) is going to cost you.
Stay tuned. We decided to save that good news for another day, but we're clearly out to make this an affordable option for Xbox 360 owners…
Unless that pricetag is
0
or, ooh, negative (can we do negative?), I'm not convinced this can be classified as "good news."
But what of that other next-gen optical format, the recently delayed Blu-Ray ?
With HD DVD, it is now becoming evident that the entire ecosystem—from players, drives, the discs, and manufacturing—is more economical than Blu-ray.
Oooh, fighting words. Sony? Your move.
[via Kotaku ]