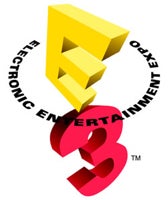 While I've been covering SIGGRAPH this week, the real big news in the convention arena has been the death/rebirth of mega-gaming convention E3. Reports first surfaced last weekend on gamer news sites Gamespot and Next-Gen indicating that a number of major publishers had been pulling out, and next year's convention would be shifted out of the L.A. County Convention Center.
The Entertainment Software Association, the show's organizing body, confirmed the reports early this week, stating that next year's convention would be different in focus, foregoing the traditional show floor of vendors for "press events and small meetings with media, retail, development, and other key sectors."
ESA President Doug Lowenstein also pointed to the preponderance of smaller gaming conventions all around the world, such as the Tokyo Game Show and the Games Convention in Leipzig, Germany. "It is no longer necessary or efficient to have a single industry 'mega-show.'" But will E3 survive this transformation, or will gamers, deprived of their annual bacchanal, revolt against their convention overlords? May 2007 will bring the answers.