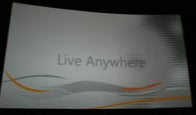 And so, finally, to Microsoft. The last of the big three. Having already launched their next-generation console last year, the House that Bill Built may seem like a lame duck in terms of their keynote potential. But they did roll out a handful of announcements. Are they earth-shattering? Judge for yourselves.
Besides the HD-DVD player that we mentioned yesterday (which will ship around the holidays for an unspecified price), Microsoft unveiled three new peripherals: a wireless steering wheel controller, a new wireless headset that looks a lot like a Bluetooth headset, and a camera. No prices were announced for these either, though they should be launching around the same time as the HD-DVD player. Joystiq has detailed specs on the steering wheel.
Besides the peripherals, the big news was Bill Gates (they call him "Money," for short) stepping out to introduce "Live Anywhere," Microsoft's attempt to integrate your online gaming profile across the Xbox, Windows Vista, and cellphone platforms. Some games will be continuable across platforms: you can start it on your PC, and then pick up where you left off on your Xbox, for example. Smells a little gimicky, and the implementation will make all the difference, but it's an intriguing idea, and MS certainly has the weight to try it. They've had great success with Xbox Live, perhaps they can expand that into their other spheres of influence.
Oh, and there was a Halo 3 trailer. If you're into that kind of thing.