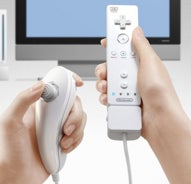 Pardon the headline. By comparison to Sony's press conference, Nintendo's gala was apparently fairly light on the hard information. We'll say upfront that there was no price or specific launch date revealed for the upcoming Nintendo Wii console, though they suggested it would be cheaper than the other players' and should launch in the fourth quarter of this year, confirming many's suspicions. Otherwise, most of the press event was atmosphere, trying to get the crowd revved about Nintendo's gaming philosophy.
There were some interesting tidbits though. The Wii remote (pictured), for example, has a built-in speaker that will be used to create ambient sound effects. So, for example, if you use the controller to shoot an arrow, you would hear the bowstring being pulled from the remote's speaker, and the impact of the arrow from the console. Likewise, both halves of the controller have their own motion sensors, so they can be controlled independently, and somewhere in that little package they've found room for a microphone.
Some other details have also percolated into the open. Joystiq found this picture on Nintendo's site of a shell for the Wii's remote that transforms it into a standard (albeit apparently wired ) controller. Engadget throws down the skinny on Nintendo's online service, WiiConnect 24, which will reportedly download content while the machine is "off" (or not actively being used).
But most of the focus from Nintendo has been on the games: here's Kotaku's list of what's been announced so far. All in all, the Wii is, in my opinion, shaping up to be the most interesting of all of the consoles.