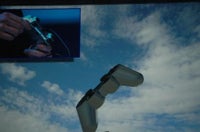 Sony held their big E3 press conference this evening, and the folks over at Joystiq blogged it live. A slew of Sony execs (everyone short of CEO and token Welsh guy Sir Howard Stringer) showed off the PlayStation 3 and finally released some hard details about the console's launch.
Here's what we're looking at: the North American release date is November 17th. The PS3 will ship in two flavors: vanilla (20GB) for $499 and chocolate (60GB) for $599. Strawberry fans, you're out of luck. Sony aims to ship 2 million units in the initial launch window.
Ken Kutaragi, President and CEO of Sony's video game division, took the stage for a Steve Jobs-like "one more thing" moment to show off the PS3's controller. Early prototypes had featured a boomerang-like controller that had been roundly panned by critics as cumbersome, ungainly, and hideous. And evidently, Sony was listening. The controller Kutaragi showed off on stage looked—*gasp*— exactly like the PS2 controller .
With a twist. In a move that is clearly at least partially designed to steal thunder from rival Nintendo's upcoming Wii console (details of which will be released tomorrow morning at Nintendo's E3 press conference), Sony has added motion sensing to the PS3 controller. Kutaragi demoed a flying game, controlling the plane entirely via motion sensing. The controller is also wireless, communicating with the PS3 via Bluetooth.
Microsoft may have served up a rocket with this morning's HD-DVD announcement, but Sony returned a fireball. Microsoft's E3 press conference is scheduled for tomorrow: with the Xbox 360 now the only next-gen console without a motion sensing controller, will Microsoft's first mover advantage just end up making the Xbox 360 look so 2005 ?