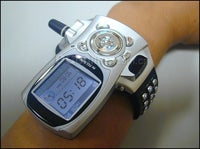 Who among us hasn't wanted a wrist cellphone at some time or another? When I was a kid, I used to pretend my digital calculator watch was a communicator. Yeah, I had a calculator watch. You wanna make something of it?
Okay, sure, this model isn't not quite as compact as Dick Tracy's, but this is the future , baby. The GSM F88 has a built-in mic, a speakerphone, voice-activated dialing, calendar, alarm clock, and a 3 megapixel rotating camera. Plus it weighs just 100g. It's almost hard to believe something so light could cost around $1,100. Almost .
If they could just turn that screen into something foldable or rollable (whither my rollable OLED displays?), this thing could be a winner. Although one hopes it has a headset jack, in case you should want to keep your conversation private. Also, they probably need to move the keypad from the wrist strap. Seems rather fugly unergonomic otherwise.
[via Gizmodo ]