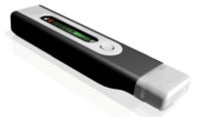 I heard about this Ecosol Powerstick at the CES event in New York, but I didn't see it on the mini show floor. The idea is cool; like the rechargeable USB batteries, you can pop the Powerstick into any USB port; it'll charge up, and store that energy until one of your other myriad electronic devices starts to run dry. Then just hook that up to the Powerstick and give yourself a bit of a boost.
Ecosol boasts that the Powerstick can store enough energy to fully charge a Blackberry. Of course, you'll need adapters to connect the Powerstick to your peripherals, but Ecosol has several available for the most common cellphone and other device manufacturers.
But the coolest feature of the Powerstick is the integrated LCD readout on the side that tells you how much charge is still available. Pricing doesn't seem to have been released yet, but we'll keep an eye firmly in that direction.
[via Shiny Shiny ]