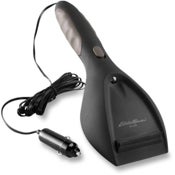 It's been an odd winter so far here in the northeast. No snow to speak of, and temperatures in the 40s and 50s. Still, there has been a morning or two where I've had to scrape the old windshield off. On the one hand, there's something cathartic about ice scraping—on the other hand, I could easily do with less time spent in the freezing cold.
So why not soup up the old ice scraper with a little bit of the old electric magic? Eddie Bauer, of all places, is offering a powered ice scraper. Just plug it into your car's cigarette lighter; a fifteen foot cord allows reach to all of your car's windows—unless you're driving a Hummer.
At $15, it's a pretty good deal for avoiding frostbite.
[via Gizmodo ]