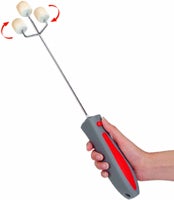 Making S'mores is no laughing matter, okay? It's an art . Not enough marshmallow toasting and the viscosity levels will be too low; too much and you're eating a carbon sandwich. But in order to achieve that perfect medium of meltiness , we need to have the proper equipment. I mean, sticks are so 19th century, people. Plus, who knows where they've been? On trees?
The Electric Marshmallow Toaster solves that problem with spinning, three-pronged ease . Just pop your marshmallows on the end, hit the controls on the handle, and you'll be toasting your white cylinders of sugar to golden perfection every time. Pop them into your ready-made combination of graham crackers and Hershey's chocolate squares, and you've got yourself a recipe for taste sensations .
Deliciousness is just $20 and 4 AA batteries away.
[via SCI FI Tech ]