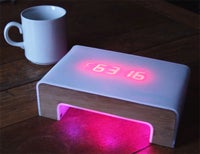 One big problem for technological gadget lovers like myself are the hidden costs. For example, almost every device needs some form of electricity . Buying batteries can be expensive enough, but that's without even taking into account the amount that you spend on the electricity pumped through your home's wall sockets. Is there a way to keep track of that without waiting for the electric company's smackdown in the form of a bill?
I like the idea of this Wattson device, which you can buy for the rather expensive sum of £350 (that's ~$687, but at the moment, it's only available in the UK). The Wattson is comprised of two parts: a sensor that you install near your house's electricity supply, and a wireless display that you can tote around with you, that displays in glowing red digits the amount of wattage your house is currently consuming. Turning electrical appliances on and off will be immediately reflected by the display, so you can reduce your consumption. You can even connect it to your computer and join the online community, sharing your results with other users.
Not only does it help you save a few bucks off that monthly bill, but, hey, it helps the environment too. What a winner! As I said above, it's only available in the UK at the moment, but be sure and contact them if you're not in the UK and you're interested.
[via Gadget Review ]