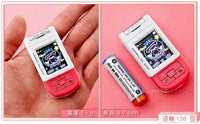 Stop. Really. I'm not kidding. I know miniaturization is all the rage, but you've gone too far . Who the heck is going to use the world's smallest cellphone —ants? I'm not talking world's thinnest, either, okay?
The Xun Chi 138 is just too small. It's so small, in fact, that they've had to ditch a keypad in favor of a touchscreen. At 2.64 inches long and 55 grams, it's the phone that you'll lose seconds after taking it out of the box. Or step on. Or lose, and then step on. Somehow, despite not finding room for a touchpad, they have stuffed in a 1.3 megapixel camera, which also makes it, I suppose, the world's smallest cameraphone. It also includes GPRS, an MP3 player, and handwriting recognition.
I really have nothing else to say about this except that if you do pick one up, please don't swallow it by accident.
[via OhGizmo ]