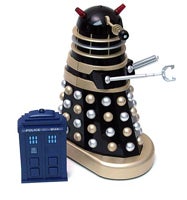 I'm a fairly recent convert to the Doctor Who universe, having only started watching last year's new season, featuring Christopher Eccleston as the Ninth Doctor. I realize I have something like twenty-six years of Doctor Who to catch up on, and some day perhaps I'll have time to do so. Just the other night I was thinking how much I wanted my own TARDIS; given the difficulty of finding even an old British Police Call Box, perhaps I should settle for my own Dalek.
If you're not familiar with the Daleks, they're Doctor Who's archenemies. Deadly beings bent only on destruction, the Daleks themselves are nigh indestructible cyborgs, and can only be thwarted by, um, stairs and ladders (although later models did develop some hovering capabilities).
Anyway, I know I'm not the only Doctor Who fan in the ranks here, so I couldn't resist pointing out these remote control Daleks from Think Geek. They come in black, blue, and red, and feature IR remote controls, flashing lights, and a host of choice Dalek quotes. They require 3 AA and 3 AAA batteries (included), and run about $55. But the joy they will bring you as you terrorize your co-workers is priceless.
Come on, Jason, you know you want one…
[via Gearlog ]