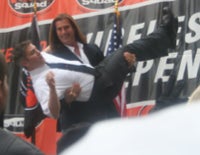 Who says geeks can't be good looking? Male model and bird-magnet Fabio spoke the other day at a Geek Squad event. Turns out that the man with the flowing golden locks is an old school geek, who used to own an Amiga, is a Mac fan, and even knows how to solder. The man's a keeper, ladies (or gents)!
The former "I Can't Believe It's Not Butter" spokesman also weighed in Format War '06, saying that he's not a fan of either Blu-Ray or HD DVD. Check the link above for more pics of Fabio geeking it up.
I'm just sad that this undermines my shot at hottest geek of the year. Oh well, perhaps I'll still make it in the calendar.