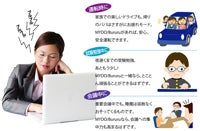 This isn't the first time that we've featured electroshocking devices here. Heck, it's not even the third time. At least this contraption doesn't hail from the United Kingdom, where shocking seems to be some sort of insane national sport—like rugby and cricket. This time around, it's—surprise—Japan who's decided that ordinary household objects can be enhanced with random electric shocks.
Enter the Vision Optic MyDo Bururu eyeglasses. Most glasses just help you see, but that wasn't enough for these glasses, oh no . These glasses help you stay awake by delivering electrical shocks when the angle of your head goes below a certain threshhold.
You know what? There's no way these could possibly go wrong. And, hey, if you're going to shell out $370 for a device that randomly electrocutes you, well, I've got a car battery and some jumper cables, and I'll do it for $250.
[via Gizmodo ]