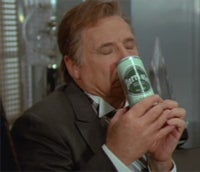 Japan, you are truly the center of world innovation. Where else in the world can you get the most cutting edge electronics, the deliciousness of Pocky, and now, finally, canned air .
We're not talking the stuff you use to dust your keyboard, so don't be eyeing that little straw. Seven-Eleven Japan will begin to sell cans of oxygen that will contain enough gas for 35 two-second inhalations. And what can oxygen do for you ?
A drop in the amount of oxygen in the body can make people start to yawn and sigh. Normal air contains only about 21 percent oxygen, but the oxygen concentration in the cans is 95 percent, and breathing it in can reportedly bring on a feeling of invigoration.
Concentrated oxygen is, of course,
highly flammable
, so part of me is a little concerned about carrying around what I'm assuming are pressurized canisters of potentially flaming gas. Then again, if Perri-air is good enough for
Mel Brooks
, I guess it's good enough for me. Guess I'll go score me a hit of O
2
.
[via Gizmodo ]