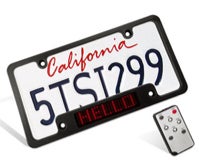 I liked the idea of the Driv-e-mocion, but this is more like it. No pre-canned messages or smiley faces; just your own pure, unadulterated, deepest-seated feelings , shared with the son of a gun that's been tailgating you for the past two miles.
The $40 Scrolling License Plate Frame boasts a built-in scrolling LED message strip which can run messages of up to 120 characters. The catalog page (at Sharper Image, natch) suggests the following usages:
Display greetings, business/website information, driving suggestions, marital status, sports scores, jokes, trivia, song lyrics — the possibilities are endless!
Let me be honest, I'm going to use this for exactly one thing: telling other drivers exactly what I think of them. Typing on the road is dangerous, of course, so fortunately the Scrolling License Plate Frame allows you to store five custom messages and trigger them with an included remote control.
Can I come up with five messages that cover every possible eventuality? Well, I can come up with one that covers pretty much all of them. Only I can't write it here.
[via Gizmos for Geeks ]