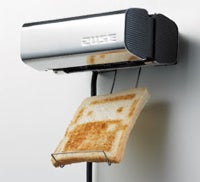 That's right, Gadgetbox brings you the latest and greatest in toast technology. I, for one, eat toast for breakfast many-a-morning, but my toaster oven is a little less than optimal . For one thing, it doesn't toast very evenly, but far more importantly my toast is totally devoid of any sort of image . Not so much as a picture of the Virgin Mary.
The Zuse Toast Printer aims to put a custom image on your toast. Unfortunately, there's really nothing more about the Zuse Toast Printer known. No price, no date, no availability. Nothing. It's like the stealth toaster. And yet I totally want one. The enjoyment I could derive from printing whatever I damn well please on my toast totally delights me.
Guess I'll have to wait for the day when I can print sensitive information on toast . Has destroying your top secret files ever been more delicious ?
[via Shiny Shiny ]