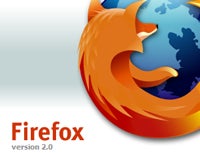 Are the web browser wars all set to get heated up again? Internet Explorer has been the reigning champ in terms of popularity for years now, ever since Netscape essentially bit the dust. But upstart Firefox has been gaining ground on the aging Internet Explorer with its 1.0 and 1.5 releases.
Although Firefox 2.0 doesn't officially ship until tomorrow, you can snag it off Mozilla's servers today if you're interested (Mac version here; Windows version here ). On the Windows side of things, Firefox is a no-brainer as far as I'm concerned; the real question for me is whether 2.0 can take a shot at Safari on OS X.
First impressions? It's fast, and the interface looks slick. The only misstep on OS X is the continued lack of native Cocoa widgets for form elements. Call me an aesthete—I don't want to stare at Windows-looking buttons on Google all day. Sure, there are third-party add-ons that you can use to adjust the look of buttons and menus, but truly native widgets still await version 3.0.
But on to the other features: built-in spellcheck in textarea forms is awesome , especially for bloggers; the improvements to tabbed browsing are slick; better handling on RSS feeds is very welcome; and session-saving functionality is the bee's knees. There's much more too, so give it a shot.
[via Lifehacker ]