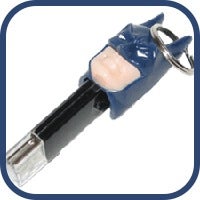 Flash drives have become ubiquitous nowadays; it seems everyone has them, from grade-schoolers to grandparents (except me, for some reason—though if I recall, Microsoft owes me a free one…let's get to that, Bill). But with all these memory sticks floating about, how—calamity of calamities!—do you tell yours apart from everybody else's?
At my old job, we named them. We had 12, so we picked one of the tribes of Israel for each one (conveniently allowing me to keep 'Dan' for myself), though Issachar kept getting lost. Still, they all looked the same, and all it took was one misplaced or illegible label and our careful organizational work would go down the drain.
Now, if we'd had the services of UCLA student Rachel Hill, and her Freshly Squeezed Flash site, we would have been all set. All of our frequent travelers could have been issued a easy-to-remember flash drive (say, Oliver the Octopus, or George the Goldfish ), and I could have kept the pictured Batman Pez dispenser drive all for myself.
Rachel accepts custom orders, and besides the cute rubber animals and candy dispensers, has also started integrating flash drives into Hot Wheels cars. Which leaves me with just one question: how much for a Pez dispenser flash drive that still dispenses Pez? Two birds, one stone.
[via Gizmodo ]