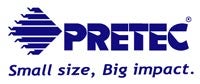 So, I still don't have a USB flash drive, thanks to Microsoft. I figure I should hold out until I see something really compelling, like a USB flash drive that also, um, makes dinner . Or perhaps one that's bulletproof.
Now, the life of a blogger can be dangerous on occasion, so really I think I owe it to myself to have a flash drive that's not only bulletproof, but also waterproof and fireproof. There's something reassuring about knowing that should I be shot, set on fire, and drowned, in some sort of Rasputin-like attempt on my life, my data will survive. Until I accidentally reformat it. After all, it's hardly idiot-proof .
The Pretec i-Disk BulletProof comes in capacities of 32MB to 2GB; pricing's not yet been announced, but, really, how can you not afford to get one?
[via Gizmodo ]