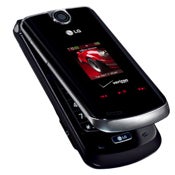 Is the Chocolate the phone that all the kids are talking about nowadays? At the ripe old age of 26, I seem to have lost touch with the younger generation. I'm not entirely sure that they don't communicate entirely by neural implants at this point.
Anyway, for those who are a fan of LG's music phone, but prefer a flip form factor to a candybar slider (get it? candybar? chocolate? eh? eh?), LG's got you covered. They're releasing the flip version of the Chocolate (aka the VX8600) in conjunction with Verizon. Pricewise, it costs $129.99 with a two-year contract; there's no word yet on how much it'll run on its own or with one year options.
For features, you'll see not only the music and VCast (Verizon's downloadable video service) functionality, but a microSD slot, A2DP stereo Bluetooth, a 1.3 megapixel camera, and a speakerphone. Sure, it's purty, I suppose, but no word yet on when the ugly white and green models will go flip.
[via Engadget ]