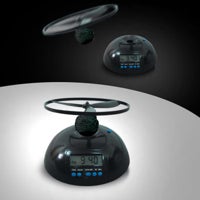 I humbly suggest that the reason that human beings have so much trouble getting up in the morning is that they aren't supposed to be up that early. Granted, my blogging life means I can roll out of bed at 9:30, and start working, bedhead, bathrobe and all. I've largely given up on my clock's alarm functionality.
But some people need that wake-up jolt. And some people need more than your average wake-up jolt. For them, there's the Flying Alarm Clock. Relax; it's not the clock itself that flies; rather, it's got a little helicopter device that flies around making mosquito-like buzzing. The only way to stop it is to grab the thing and slap it back on the base. And if you press "Snooze," it'll only repeat the entire process until you've stomped up and down on the little helicopter, which, with each smash, will issue a pathetic little mechanical wheeze. What way to spend £19.95 (~$38).
[via New Launches ]
When you purchase through links in our articles, we may earn a small commission. This doesn't affect our editorial independence.