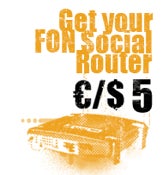 For those of you believe that The Information Should Be Free, you might be intrigued by a Spanish company called Fon. The goal of the organization is to create free Wi-Fi networks throughout the US and Europe with little cost to the people who use them. But instead of offering a top-down solution, Fon is using a grassroots approach by appealing to the Wi-Fi users themselves.
Fon will sell you a wireless router for $5, contingent upon the fact that you will let other Fon users access the Internet via it for a year. On the flipside, that means that you get to surf the Internet on other Fon users' routers as well. The system is controlled via a registration system on Fon's website; they've currently logged 54,000 people from around the world who want to become "Foneros."
The difficulties are myriad: aside from the limited range of most wireless routers, Fon faces challenges from ISPs who may not want their customers sharing out their connections, as well as competition from a number of free municipal Wi-Fi networks. Still, it sounds nicer than shelling out $20/month for every different pay network.
[via BBC ]