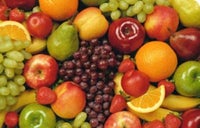 Yesterday we had a bit of a food thing going on: there were square eggs and cupcake protectors. Today, in an effort to eat healthy, we have fruit. And with it, the eternal dilemma: how do you buy the freshest fruit? There are any number of techniques for determining how ripe your produce is. Let's see: knocking on the outside, squeezing, bouncing off the floor, etc. But how could technology solve this problem?
Simple: the RediRipe strip. Somewhat reminiscent of the Timestrips that tell you when not to eat food from your fridge, the RediRipe strip tells you how fresh the produce in the supermarket is. How does it know? No squeezing, knocking, or injecting is involved: it simply changes color depending on the amount of ethylene gas—a byproduct of the ripening process—given off, turning from white to blue. The bluer the sticker, the riper the fruit.
Perhaps this can aid me in my constant battle to get bananas that are just slightly short of ripe. Expect to see them in grocery stores in a couple of years.
[via SCI FI Tech ]