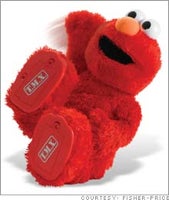 I ask you: is there anything more terrifying than Elmo? My 4 year old cousin has no fewer than three Elmos that do nothing but sing, dance, and plot world domination .
The latest Elmo toy to make your child tug longingly at your sleeves this holiday season is " Tickle Me Elmo Extreme Edition." I wish I was inventing that epithet, but that would be ridiculous even for me. TMX, as he's been branded , supposedly retails for $40, but you can already find eBay listings of several times that.
What makes Elmo so extreme? Well, in this version he'll slap his knee when you start tickling him, then fall down and roll around, and eventually—here's the creepy part— get back up again . All the while fixing you with his cold, unblinking steely gaze.
And just like that, our last defense against the mechanized death is removed. Now that Elmo can right himself again (or, at least, most of the time), our destruction must be near. Check out some videos of the dest—er, toy, in action. I'll be having nightmares for weeks .
[via Gizmodo ]