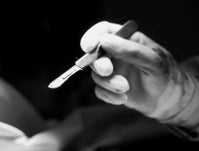 Okay, Motorola. Enough. The RAZR was a trend-setter. Sure. It looked a little silly, but whatever . The SLVR? That was taking a spin of the wheel towards Nuttyville. Now you're announcing that your next phone is the SCPL ? That's barely even recognizable . Yes, I realize that your naming scheme is basically a Family Feud category titled "really thin things that are sharp ," but come on, where the heck are you going to go from here? May I suggest OMGK (one molecule thick glass knife)? Or perhaps UVLR (ultraviolet laser)? Or maybe, and here's an idea, you could use real words .
Motorola's cellphone division head, Ron Garriques said that the SCPL would have "five features" that would make it stand out. All I'm saying is one of those better be automatic pizza ordering, and another ought to be "make your voice sound like Darth Vader." That's the only way you'll get me to buy it.
In other news, I'm still gleefully awaiting the first class action lawsuit when Motorola produces a phone so thin that it actually starts cutting people.
[via Engadget ]