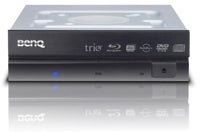 Prepare yourself for the deluge. Before the end of year, the next-gen optical peripherals are going to be flying Fast and Furious. BenQ's dropping the BW1000 Blu-Ray burner, which'll also support DVDs and CDs, at the end of August in Europe, China, and Taiwan (where's the US love?). The price for this early adopter fun? Around $1000. Which is roughly what standalone Blu-Ray players are going for in the US. So why spend a grand on something that'll just play them back when you could have the massive recording capability on your PC?
For those interested in the nitty gritty details, we'll remind you that the capacity of a Blu-Ray disc is about 25GB, which is enough for about two hours of HD TV content or around 13 hours of standard TV. The double-layer will—surprise—double the capacity.
We should be seeing Philips's triple burner around the same time as the BW1000, meaning that at least you'll have two brands to choose from.